Marine Services in Dubai
Summer is the time to take off your boat and set sail for a relaxing cruise. Summer is already here and are you excited to get out on the water? Below is the checklist to brace up your boat for this season and beyond. After a long winter, as you haven't used your boats for months, you'll need to perform some boat maintenance steps before you take it out on the water. 
Boat maintenance is necessary for your safety and also for the longevity of the boat. At Nanje Marine Services Dubai – a renowned Marine company in Dubai, we have loads of cues to keep your boat running flawlessly, so you don't run into any issues when you are on the water.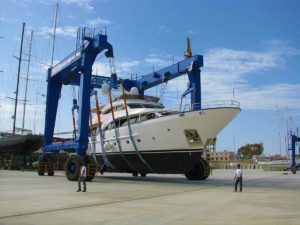 A lot of ground work goes into getting boats ready for the summers. The right work and effort you put in, the more pleasant your boating experience will be. This is efficiently done by the Marine Companies in Dubai. The process of preparing your boat for summer may seem overwhelming but it doesn't have to be. We, being the top Marine Company  in Dubai and maximum experience will help you to gear up your boat for the sizzling summer.
Find the checklist below:
Boat Registration Renewal
You might feel it's obvious and how one can forget to renew the boat registration! You'd be surprised to know the number of boat owners who forget to renew their registration. There is nothing worse than discovering your boat registration has lapsed, while you are all prepared to go for a vacation and about to launch the boat. So, before going any further, firstly make sure it is up-to-date. If it is already past due or about to get lapsed, no worries. We, at Nanje Marine Services Dubai will assist you with all the renewal and registration work leaving you with no stress.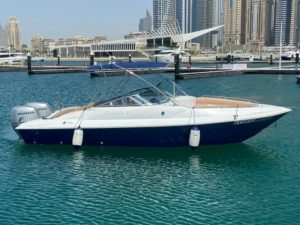 Wash Your Boat
Next phase is Cleaning the Boat 
Keeping your boat clean and looking good isn't just a matter of pride, it's also an important part of primary boat maintenance. It is important for a boat owner to know how to clean one's own boat.  It extends the lifespan of the boat parts exposed to the environment, boosting functionality in many cases. 
Ready to get scrubbing? Scrub the boat interiors with mild detergents before washing it with water. Also, clean the different pieces and parts of your boat inside, and out. Check for serious stains or molds in your boat. You may need mold & stain removal products to shine it spotlessly. Next, scrub the body with a boat hull cleaner and rinse it off.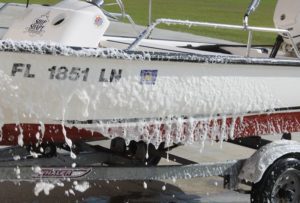 Pre-Launch Visual Boat Inspection and Repair
Boating is always a fun and exciting thing to do, but maintaining the boat can often be a hassle. Waiting to do or postponing  maintenance work can damage your watercraft, or even be a safety hazard.
You may have noticed cracks and other damages while washing your boat. Also, making regular checks a part of your normal boating routine should be always your priority.
You may have observed cracks and other damages while cleaning your boat; do a thorough check now, from top to bottom and inside and out. Scratches, cracks and hull damage leads to safety issues, so complete the full check up and perform other needed repairs. If any fiberglass hull damages are found, you can get in touch with the best Marine Company in Dubai and ensure the best works here. 

Zinc Check
Zinc anode is the protection layer you need for your boat's metallic parts. Zinc, also referred to as sacrificial anodes, are placed over and connected to the metallic parts of your boat. Zinc absorbs harmful electrical charges  in the water, providing protection from electrolysis-caused corrosion. If the zincs have tarnished, you must restore them immediately. 
Check for Battery
Every boat runs on batteries. It might be one or more depending  on the size of boats. Inspect the battery's acid levels and ensure it has good charge or keep it fully charged. Mixture of baking soda with water will act as the best cleaner to clear off any corrosion around the battery terminals.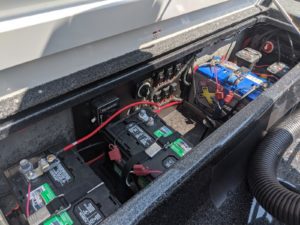 Review the Safety Equipment
Normally people tend to forget safety equipment unless there is an emergency, and of course, the hope is that you never do! However, old, torn, sun-damaged safety gear is of no use in an emergency. So regular checks of safety gear is definitely a good idea.
Safety etiquette include: 
Life jacket is a must for every person on board, most importantly that is in approved-condition;
Other items, such as air horns or bells, need to be in working condition;
Fire extinguishers need to be routinely charged;
If you have a first aid kit on board, making sure that it is stocked can help prevent a sudden end to your trip on the waters if someone gets a small injury.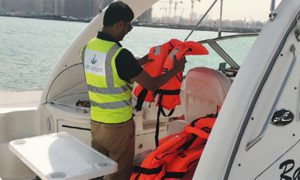 Lights, Propellers and Hulls
First, test all lights and it is one of the most important steps before you launch your boat. If you take the boat out  early in the morning or late in the evening, you'll need them properly working. Secondly, have a thorough look at the trolling motor and power trim to ensure that they are in good condition.
Next is not to forget Propellers and Hulls. The propellers must be checked for damages, dents, cracks, and pits. If damaged, you may conquer problems and noise in the steering wheel. The hull should be checked for any blisters, splits, or bends and rectified for good lifespan.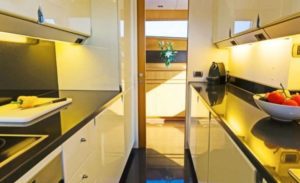 Inspect the Fluid Levels
First thing to act on as the boating season approaches is to fill it with all of its fluids at excellent levels. Keeping an eye on the engine oil and transmission fluid levels in your boat enhances the boat life and is important to ensure that it stays running smoothly while out on the open water. Use the gasoline stabilizer to safeguard the boat's fuel tank. 
Outboard/Inboard Engine Maintenance
If you skipped engine maintenance in the fall before putting your boat away, this step is especially important now. First and foremost, drain any old fuel left in the tank. Check for drive belts, hoses, fuel lines, clamps are functioning properly. Inspect distributor cap and rotor for any carbon buildups. 
Trailer Check
This part mostly goes unnoticed while preparing your boat for a sail, but it's essential. Check for the tyre pressure on your trailer, including your spare. Top off the tyres with the required amount of air. Individually, raise each trailer wheel off the ground with a jack, and test to see that the wheel spins freely, with no noise coming from the bearings. Lastly, check for trailer lights too.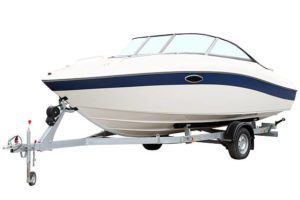 We hope the above tips will be useful for your summer boating preparations! If you need professional service or are looking for boats for sale in Dubai, contact Marine Services Dubai – a top rated Marine Company in Dubai, and one of our expert and experienced staff will gladly help you out!