BOATS NEED TO BE MAINTAINED. FIND OUT HOW FROM Nanje Marine
Just like our cars, our boats require regular maintenance to keep them running smoothly and safely. With proper boat care and maintenance, whether you're boating on a lake, river, or ocean, you can be sure that your boat will last a long time and bring back many memories.
Basic boat maintenance goes beyond a visual inspection of the boat on every voyage. You should also take care of your boat after each outing and maintain a regular maintenance schedule. Fortunately, a lot of maintenance is within the reach of most boat owners and doesn't require a mechanic. However, if you find you need help or major repairs, we encourage you to turn to a professional so you can enjoy your boat with confidence. In the meantime, we'll help you get the most out of your boat.
In this boat care guide, we cover the basics. We'll show you how to maintain your boat, provide boat cleaning tips, answer frequently asked questions, and more. If you take good care of your boat, you can enjoy a day of water and sky to the fullest.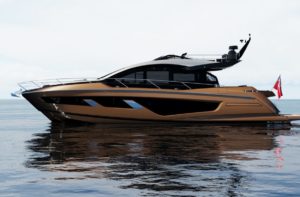 WAYS TO MAINTAIN YOUR BOAT
Generally speaking, boat maintenance is about keeping the boat clean and lubricated. Just like you wouldn't drive a car without oil, you wouldn't want to take your boat out for a trip without the proper oil level. Likewise, you probably know that weather and dirt can damage the exterior of your car over time. The same principle applies to boats. For example, a dirty fiberglass boat on the outside can turn chalky if you don't wash and wax it regularly.
To keep your boat clean and in good shape, we'll show you how to clean your boat in the next section. We also cover proper storage options and marine engine maintenance.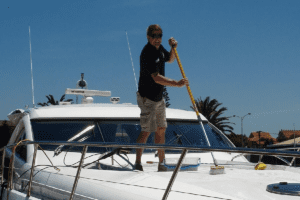 1. CLEAN THE EXTERIOR
In addition to showing off its beauty, it is also important to keep the exterior of the boat clean. On the one hand, keeping boats clean helps prevent the spread of invasive species. You never know what plants or animals might be riding on your boat, so it's important to clean your boat every time.
Secondly, keeping your boat clean protects the structure of the boat by keeping the finish intact. Over time, the salt from the sea will begin to erode, causing abrasions and scratches that could be costly to remove.
After all, a clean boat is better. Dirty hulls can increase fuel costs by up to 30%.
If possible, clean your boat on land to avoid contaminating the water. If you need to clean your boat in the water, use safe products and avoid toxic substances. Wherever you clean your boat, it must be rinsed with fresh, clean water to remove the salt.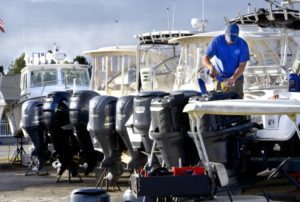 Not sure where to start the cleaning process? Here are some additional cleaning tips for different types of marine materials. Nanje Yachts have Boat Rental Dubai
Fiberglass

: Most fiberglass boats have a glossy gel coat that protects the fiberglass from salt, sunlight, and other elements. When the gel coat takes on a chalky appearance, you can tell it needs attention. To keep your fiberglass boat in good shape, be sure to wax or polish it with a wax designed to protect the gel coat. Try waxing twice per season, preferably in the spring and winter before storing your boat. Other than waxing your boat occasionally, make sure to wash away dirt and salt after every outing. Use soap designed for boats and a gentle brush or sponge.

Canvas:

Canvas is the general term used to describe the fabrics used in cockpits, boat covers, and other parts of the boat. Proper care will keep the canvas looking great, and will help the material last longer by keeping its waterproofing properties intact. You can clean canvas using a light brush, mild soap, and fresh water. If your canvas has polyvinyl chloride (PVC) windows, never clean the PVC with ammonia-based products. Ammonia will damage the material over time, so it's best to clean clear PVC with a specialty cleaner.

Upholstery:

You likely have vinyl-covered seating in your boat, since vinyl is durable and easy to clean. Regularly wipe down and clean the seats in your boat to prevent dirt buildup, mold, and mildew. Wet a sponge with mild, soapy water, wipe down the seats, wipe away soap residue with a clean, damp cloth, then dry the seats with a clean, soft cloth. If possible, keep the vinyl seats covered or stored away between outings.

Woodwork:

Though wood is typically less common in modern boats, older boats may have some woodwork in handrails, steps, decks, or other parts of the boat. Usually, these wooden components are teak, which is a durable tropical hardwood. Clean the teak occasionally with the mildest cleaner designed for the teak. Using a soft bristle brush, lightly scrub the teak going across the grain to help keep it in top condition.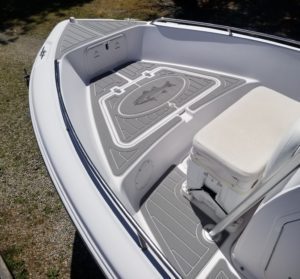 2. PROPERLY STORE YOUR BOAT
Proper storage is essential to protecting your boat from weather-related damage, especially during winter. It's all about keeping ice, snow, and rain away from your boat while allowing airflow to prevent mold growth. You should also prepare your boat for a few weeks of inactivity so that it can function properly when it goes out to sea again. Here are some storage options to consider.
Outdoors: Outdoor storage is a popular method that allows boat owners to store their sailboats with the mast up. Outdoor storage requires proper coverage to protect your boat from inclement weather. The best way to keep your boat outdoors is to hire a professional for shrink wrapping. Proper shrink wrapping will ensure your boat remains covered and ventilated at the same time. You can cover your boat yourself by stretching the tarpaulin over the wood frame and placing it on the boat.
Indoor: Indoor storage is a great option as it protects your boat from the weather and sunlight. If you do not have room to store your boat in your garage, consider renting a storage unit for the winter. You might also consider dry-stack storage. Amazon echo 4th gen If you store your boat at a dry-stack storage facility, you'll keep your boat on a rack in a covered building — just be sure to choose a secure building.
On the water:

Many harbors offer boat storage in the water year-round. Bubblers or de-icers, which bring warmer water from the bottom up to the surface, can protect your boat against ice. Storing your boat on the water may be a practical option if you have a larger vessel and deep water.
Once you've decided where to store your boat, follow these tips to prepare your boat for storage. You'll reduce the amount of work you'll need to do when it's time to sail:
Properly clean your boat.

Replace cracked hoses.

Lubricate spark plug holes.

Replace inline fuel filters.

Fill the tank to at least 90% and add anti-bacterial stabilizing agents to the fuel.

Disconnect the battery and store it in a cool, ventilated area.

Remove all food, carpets, and electronics.

Clean the propeller and shaft and inspect them for damage.

Apply grease to the shaft.

Open the drain plugs to allow precipitation to drain out.

Leave water faucets and valves open.

If the boat has a refrigerator, keep the door open.

Flush the engine, water lines, and water tanks with fresh water to remove the salt.

Top off the antifreeze.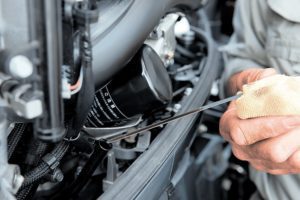 3. PRIORITIZE BOAT ENGINE MAINTENANCE
You don't have to be a mechanic to maintain your boat's motor. By taking preventive measures, you can keep your engine running for a long time, and you can preserve the value of your boat. Before you perform engine maintenance, it's a good idea to check your manufacturer's recommendations first. With that said, here are a few general tips for caring for an outboard motor before every trip:
Check that you have fuel and that the fuel tank vent is open.

Make sure the engine mount screw clamps are tight and secure.

Ensure the water intake is free of debris.

Check your propeller for caught fishing lines and excessive oil buildup.
After every single trip, whether you travel in saltwater or freshwater, you'll want to flush the motor to eliminate sand, dirt, and other debris. To do so correctly, take these steps:
Buy "earmuffs" or a motor flushing attachment.

Slip the earmuffs onto the water intake and attach a garden hose.

Start the engine and allow the water pump to do the work.

While you're cleaning your motor, make sure the water pump has good flow by carefully feeling the temperature of the water stream.

The water shouldn't be hot, and the output should be strong.

If the water pump isn't functioning properly, shut the engine down and insert a piece of wire into the flow tube to remove debris.

Restart the engine and re-check the flow

—

if the output is still weak, it's time to replace the water pump.

After flushing the engine, disconnect the fuel line.

Allow the engine to burn all the fuel in the carburetor.

Turn off the key and battery switch.

Wipe everything down and spray with an anti-corrosive agent.

Replace the cowling and wipe it down.

Keep a canvas or plastic cover on the motor between trips.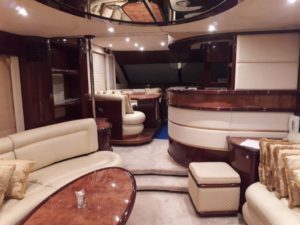 Here are more boat maintenance tips to apply regularly:
Replace spark plugs as needed.

Regularly check for water in the fuel.

Keep an eye on the engine's oil level.

Check the fuel lines for cracks and wear.

Check the propeller and engine belts for wear, and replace them as needed.

Replace damaged fuel hoses.

Check the fuel primer bulb for cracks.

Inspect clamps for rust.

Make sure the tank vent is clear, with no blockages.
Nanje Marine Service specialize in Boat Repair Dubai and Yacht Management Dubai