Best Marine Service in Dubai
Any ship which is out at sea long enough will probably require some kind of marine repairs which become necessary during the normal course of operations. If these are major repairs, the ship will more than likely simply head back to shore into dry dock, where it can be serviced by skilled repair personnel.
However, there are a great many other types of repair which can be done right at sea, provided that a support vessel has the right equipment and parts, and the skilled repairmen capable of carrying out the necessary repairs. Here is an overview of the various types of repairs which often become necessary at sea.
Yacht Electrical and Mechanical Repairs in Dubai
Most seagoing vessels these days are equipped with some very sophisticated electronic equipment which is essential to the ship's normal operation. When anything goes wrong with electrical circuitry, this needs to be repaired immediately, because virtually all electronics on board are considered essential equipment.
There is a wide variety of mechanical repairs which might become necessary, including repairs to propellers, rotors, and virtually any kind of mechanical part which moves during normal operation.
These can also include any radar systems which are on board, as well as sensitive radio equipment which has to be maintained. Most ships also have extensive piping hydraulic and electrical steering systems, mechanical cranes, boarding and marine gangways, boiler shells, generator systems, and vessel boilers, which can all break down at any time. Out at sea, virtually all of these mechanical devices are critical for keeping the ship afloat and for carrying out its assigned function, so quick and effective repairs are a must.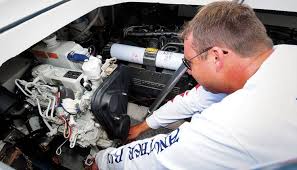 Marine Engine Repairs In Dubai
Marine engine repairs calls for a whole category by itself, since engines are so crucial to ship operation. Every ship will have an engineer on board who is capable of carrying out normal maintenance and checking the engine parts to make sure nothing goes wrong. But sometimes there are breakdowns which occur which are unavoidable, and which cannot be repaired by the ship's engineer. In situations like these, there are organizations which provide expert service and parts replacement as needed.
Situations like these include metal locking, metal stitching, honing of liners, and reconditioning of the pistons. Marine engine repair can either be related to its electrical system or its mechanical system, and that means any repairs carried out at sea may require experts from either or both of these two areas.
Any team which performs yacht engine repair work at sea will be equipped with some highly sophisticated machinery for diagnosing problems, and will have all the potential replacement parts on hand. You can imagine what the plight of a seagoing vessel might be without its engines to propel the ship, so that makes engine repair one of the most crucial services which can be carried out at sea.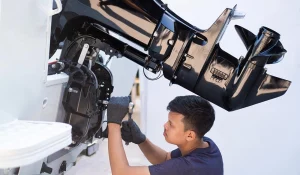 Emergency Response Teams
Because virtually all repairs carried out at sea are so critical to ship operation, a whole industry has sprung up along coastal locations which provide emergency response teams that can spring into action quickly to affect needed repairs.
Individuals working on these teams have a great deal of expertise in handling crane issues, pump and rotating equipment repairs, hydraulic issues, electrical problems, piping problems, and any other kind of mechanical issues.
Many seagoing ships have working relationships with such emergency response teams, and these are called into action as needed when problems arise. It is the ability of emergency response teams to quickly get to a ship's position and make effective repairs which makes them so valuable. Without them, a great many seagoing vessels would have to sacrifice functionality at sea, or head back to port to accomplish repairs needed for operations. You can Also discover our….
Experience Luxury Yacht Rental In Dubai
Pick one from our exclusive fleet of 30 different luxury rental yachts in Dubai that fits into your pocket without compromising the trip experience. We also cater yacht packages and party yachts in Dubai to make your happy moments memorable.